Post by Hawk914 on Jun 15, 2012 22:55:10 GMT -5
I started a thread in the past which dealt with 'photochops'... photos and images which have been altered in some way by using Photoshop or other types of image editing software. Unfortunately my forum account was hacked and I lost all access to any old posts I'd made.
So I'll just start again!
Actually it was a question by Greg in another thread that inspired me to do this. I'd posted a photo, and then an altered version of same:
Yes, do it! It may be frustrating at first, but after you figure out some basics it's alotta fun... and when you figure out some less-than-basics it's a blast.
I've never tried to 'strip paint' before, really. Not on this level, anyway. I'm sure it could be done to great effect with enough time and effort, but that kinda time and effort would be $20-an-hour time and effort...
Anyhoo, here's my first attempt... 'tis not all that great if you ask me. The biggest issue I have here is the lack of detail in the lightest area of the fuselage. That was all wiped out by the paint and the lighting. It definitely needs more work, but the basic effect does comes through somewhat...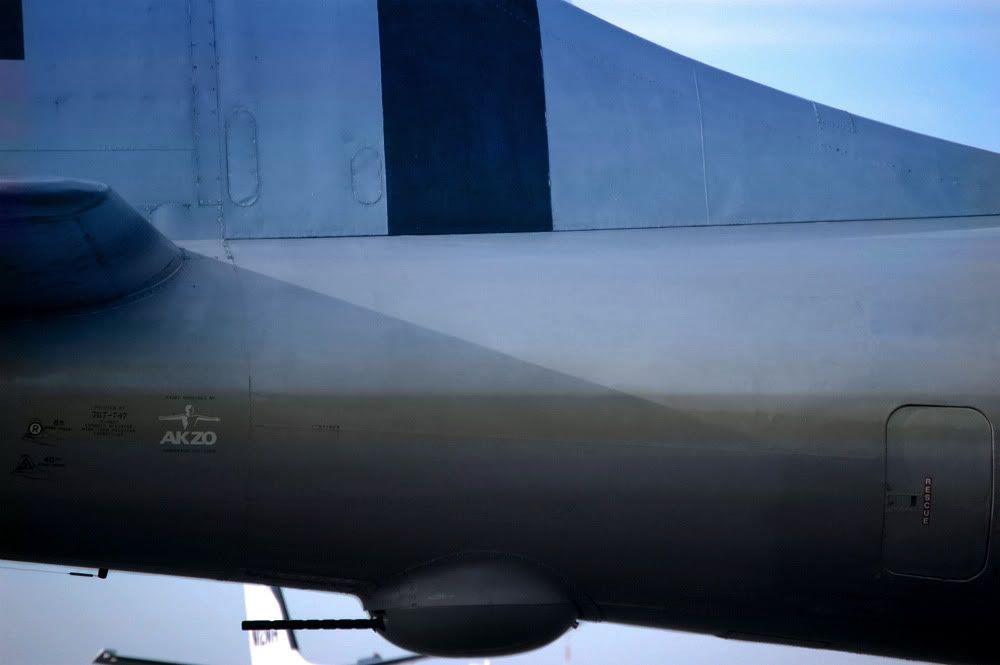 The basic gist of what I did here was to combine a number of different layers, most of which were made using the base image, (the photo I took) and changing various properties on several of them to get something that looked like bare metal... not super-shiny polished metal, but barely reflective bare metal.
The layers I used which were not based on the photo I took, were based on this image I'd found on the net:

I took this image and made a new layer on the base image, then stretched that layer using 'Free Transform' (under 'Edit' in the top menu) until it covered the entire area of the base image. I then knocked the opacity down to around half (using the opacity slider in the 'Layer' window, lower right in Photoshop, by default) erased the background areas, leaving only the aircraft covered with this new layer. Then it came down to a whole lotta experimentation with many different versions of each layer... much of which I honestly cannot recall.
Hopefully I can come up with some fairly simple and straightforward method of doing this... if and when that happens, I'll post it here.
Fade to Black...