Post by Tom Kwiatkowski Sr. on Aug 2, 2012 14:00:15 GMT -5
As you Folks know, I have always been extremely interested in the Space Program, having lived through the very beginning to the shuttle missions. I am also a patch collector of sorts. The source for this series is from a Willabee and Ward collection titled OFFICIAL NASA EMBLEMS OF AMERICA'S GREAT SPACE MISSIONS. It consists of cards with a patch on the front and info on the mission on the back. There will be gaps. I have only managed, so far, to collect 42 of the 50 card set. I'm still looking though. I hope this series brings back fond memories and is enjoyable. We, of course start with Project Mercury.
MERCURY 3

On April 12, 1961, the U.S.S.R. won the race to put a man in space when Yuri Gagarin circled the Earth aboard Vostok 1. NASA scientists were shocked and dismayed, but they were determined not to be left behind.
As a result, NASA stepped up its Mercury program to put an American in space. Earlier suborbital test flights had proved that monkeys could survive the ordeal of space travel, but now it was time for the ultimate test. A man would be launched into space.
Alan Shepard is Chosen to Become First American In Space.

Early in 1959, NASA selected seven men on whose shoulders the future of space travel would depend. These seven U.S. potential astronauts underwent rigorous training, and the American public eagerly followed their every move.
As America's space program neared its date with destiny, the only mystery that remained was who would be chosen for the first manned flight. Not until May 2, 1961, when the launch of Mercury 3 was postponed, was the identity of that pioneer announced – astronaut Alan Shepard.
Mercury 3 Lifts Off.

By May 5, Shepard was back in the Mercury 3 spacecraft at Cape Canaveral, waiting for the historic launch. He nicknamed his spacecraft "Freedom 7."
With the whole world watching on television or listening to the radio, Mercury 3 was finally launched at 9:34 a.m. Eastern Standard Time (EST) on May 5, 1961. "I have liftoff," said Shepard as he soared off into space.
A brief 15 minutes later, Mercury 3 splashed down in the Atlantic Ocean about 300 miles away. It reached a high point of about 116 miles above the Earth. This was the highest point above Earth ever flown by an American. During the flight Shepard tested the thrusters and was weightless for about four minutes. Only occasionally did he manage to look out the small porthole at the Earth far below.
Mercury 3 Inspires a Nation.

The goals for Mercury 3 were to evaluate the astronaut's performance and to prepare for an eventual orbital flight. It meant so much more, however, for an excited nation.
Mercury 3 ushered in the "Space Age" and just days later, on May 25, President John F. Kennedy announced that the U.S. would place a man on the moon by the end of the decade. This would become America's greatest challenge and greatest adventure.
Milestones:
First astronaut in space.
Second person in space.
Highest point above Earth by an American (to that date).
Fastest speed ever traveled by an American (to that date).
Total distance traveled was about 620 miles.
Shepard was weightless about 4 minutes.
MERCURY 3 PATCH FACT
On May 5, 1961 Alan Shepard became the first American in space when he rode Mercury 3 ("Freedom 7") for 15 minutes. The official Mercury 3 patch shows Freedom 7 on its historic path into space from the Cape Canaveral launch site.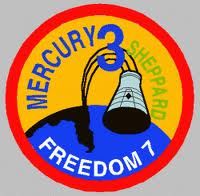 I just noticed that Shepard is misspelled on this image, but otherwise is the same design.
en.wikipedia.org/wiki/Alan_Shepard